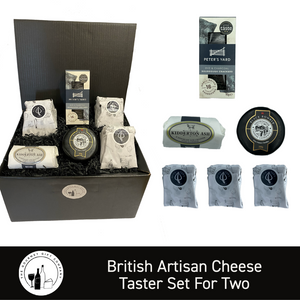 British Artisan Cheese Taster Set
Our British Artisan 5 Cheese Taster Set is perfect if you want to discover some of the best British artisan cheeses available. The set contains 5 different styles of British cheese, all with unique flavours & characteristic. We've also included some delicious sourdough crackers for you to enjoy with the cheeses.
Individual cheeses are wrapped & packed in a black gift box with tasting notes.
Cheese:
Long Clawson Stilton (Cow) 150g
A pasteurised classic blue cheese, which is crumbly and creamy with a bold expressive flavour. 
Bath Blue (Cow) 150g
A creamy, smooth blue cheese from 'The Bath Soft Cheese Company'.  It is a classic blue veined cheese made to a traditional Stilton recipe from the milk of organic cows.
Keen's Raw Cheddar (Cow) 150g
A delicious tangy and fruity unpasteurised cheddar.
Black Bomber Cheddar (Cow) 200g

An exceptionally smooth and creamy extra, mature cheddar.  It marries a delicious, rich, tangy flavour with a smooth creaminess.
Kidderton Ash (Goat) 150g
A silky smooth goats cheese that is coated with a fine ash to protect it whilst maturing. 
Accompaniments:
Peter's Yard Sourdough Charcoal & Rye Crispbread 105g

Shelf life:
The cheese in this hamper has a shelf life of 5 days. Please note if ordering for a specific event please email our customer service team on Info@quobpark.com
Substitution:
From time to time, a product can be substituted for another product of equal or above quality and value.
Allergen:
This hamper is not suitable for people with an allergy to sulphites, milk, wheat and egg. Products in this hamper may contain nuts.

Allergen statement:
Please be aware that the products present in our hampers are manufactured in environments where a wide range of ingredients are used, therefore, we cannot guarantee that they are completely allergen free. If you are concerned about allergens in our products, please get in touch before placing your order and a team member will assist and advice you.
Return & Refund policies:
Le Hamper is committed to ensuring you are completely satisfied with your purchase. If you are not satisfied, please get in touch with us within 14 days of your order, and we can discuss a refund or a replacement.
Shipping info:
The Gourmet Gift Company is committed to provide you with outstanding service. The Gourmet Gift Company will always aim to deliver your orders in UK mainland within 3 to 5 working days. If you haven't received your items within this timeframe, please get in touch with us. Please note that orders placed after 10am on a Friday will be processed on the next working day. Orders are shipped on Monday- Thursday.