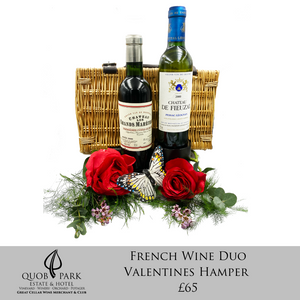 A perfect way to celebrate that special day or that special someone, all packaged in a luxurious hand woven wicker hamper.
Two Demi bottles that compliment each other beautifully, a perfect duo to share with someone special!
To add a more sentimental touch, a personal gift message can also be included.
Wine:
37cl bottle Chateau De Fieuzal 2000
An excellent example of a white Bordeaux, light and refreshing, with a balanced mix of Sauvignon and Semillon,
Tones of Apricot and White Peach are excellently paired with Seafood and Poultry,
37cl Bottle Chateau Les Grands Maréchaux:
A lovely Medium to Full Bodied Bordeaux, rich in colour with a hint of spice and black fruits.
This is an outstanding claret will leave a lingering hint of chocolate perfect for a valentines celebration.
Chateau De Fieuzal 2000
Excellent paired with Poultry, Pork and Shellfish.
Chateau Les Grands Maréchaux:
This wine is fabulous with veal, Beef, game and poultry.
This product contains alcohol. By purchasing this product, you confirm you are 18 years of age or over.
Please note if ordering for a specific event please email our customer service team on

 

Info@quobpark.com
Substitution:
From time to time, a product can be substituted for another product of equal or above quality and value.
Allergen:
This hamper is not suitable for people with an allergy to sulphites.
Allergen statement:
Please be aware that the products present in our hampers are manufactured in environments where a wide range of ingredients are used, therefore, we cannot guarantee that they are completely allergen free. If you are concerned about allergens in our products, please get in touch before placing your order and a team member will assist and advice you.
Return & Refund policies:
The Gourmet Gift Company is committed to ensuring you are completely satisfied with your purchase. If you are not satisfied, please get in touch with us within 14 days of your order, and we can discuss a refund or a replacement.